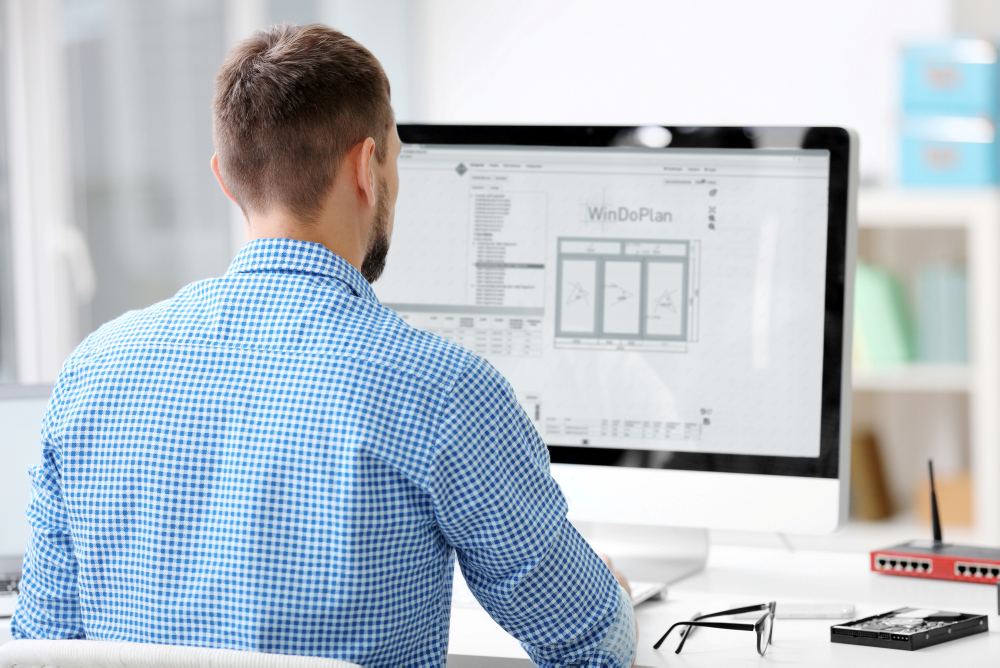 Efficient processes in window trade
Window trade made easy.


Efficient processes in window trade
Window trade made easy.
With the trade module to more efficient processes in the window trade: Thanks to the "self-service approach" based on the planning software, window manufacturers can now support dealers even more effectively in planning and project management.
As a module from the DBS WinDo Planning solution, the trade module is the ideal solution for window manufacturers in the trade business without their own trade program: Connected dealers can independently determine purchase prices and digitally manage and process all projects. Offers can be created automatically and individually for each dealer.
Online tool as web application is always available and from everywhere
Integration on the own website
Project management: Complete project processing from offer and order confirmation to purchase and delivery up to the final invoice
Document creation: Individual format templates per document, price breakdown and output in PDF format
Simple calculation of sales prices
Including installation costs
Extension with own positions or accessories is possible
Benefits for window manufacturers
Dealers benefit as well – Features at a glance
The integrated planning configurator only allows buildable designs
Simple and intuitive menu navigation with clear user interface
Independent generation of quotations (without support of the window manufacturer)
Automatic determination of the window manufacturer's purchasing prices
Elements of an order can be ordered from the window manufacturer directly
Live comparison of purchase & sales prices
Technical requirements
In order to use the trade module you need a user account. You can register here.
An internet connection is required.
The solution in detail
The online tool is available as a web application anytime and anywhere. It can be integrated on the website of the window manufacturer and dealer. Projects can be processed digitally: From the offer to the order confirmation to the delivery and the invoice. All associated documents can be designed individually and saved as PDF files. Sales prices and installation costs can also be calculated directly.
Many benefits for the window manufacturer
All product information is obtained directly from the supplier. In addition to the 100% technical verification of all data and information, window manufacturers benefit from an update service from the system provider, which means that technical master data is automatically updated. Other material types, such as aluminium or wood, are also possible – and even from different suppliers. Dealer-specific prices including discounts can also be defined.
In addition, DBS takes over the full service of the software including master data maintenance, training as well as operation (server hosting). This means window manufacturers do not have to worry about anything.
Dealers benefit as well
In addition, there are many benefits for the connected dealer as well. For example, in window planning only buildable constructions are possible. The navigation is  simple and intuitive. Thanks to technical validation, products are easily configurable, including calculation of U-value and statics. Purchase prices are also determined automatically based on the price list. For this reason, quotations can be prepared independently (without the support of the window manufacturer).  This saves time and effort on both sides. Quotations can also be extended to include own items and accessories. As a special highlight, a live comparison of purchase and sales prices is available: for more security during the calculation process. Reverse calculation, in which the margin is calculated on the basis of a fixed sales price, is also already possible.
Calculation of installation costs & order placing
Installation costs can be calculated and added to a quotation quickly: either individually per quotation item or as an installation group. The costs can be easily determined using formulas (e.g. based on size). Formulas can be created in the options independently.
After completing a quotation, the dealer can send an order directly to the window manufacturer from his order – including the correct purchase prices from his price list. This not only saves time, but also effort.
Useful extensions are planned
Like all digital solutions from DBS, the trade module is constantly being optimized and expanded. For example, currently the product team is working on various topics, including the optimization of the roller shutter configurator, where all options can be selected individually. In the future, the project exchange between the dealer and the window manufacturer is also to be expanded, so that the dealer can send not only orders, but also general inquiries to the window manufacturer directly via the software. Further individualization of the document output is also already being planned.
Contact
You are interested in DBS WinDo Planning and the trade module?
Our product team is looking forward to your inquiry:
Contact
You are interested in DBS WinDo Planning and the trade module?
Our product team is looking forward to your inquiry: