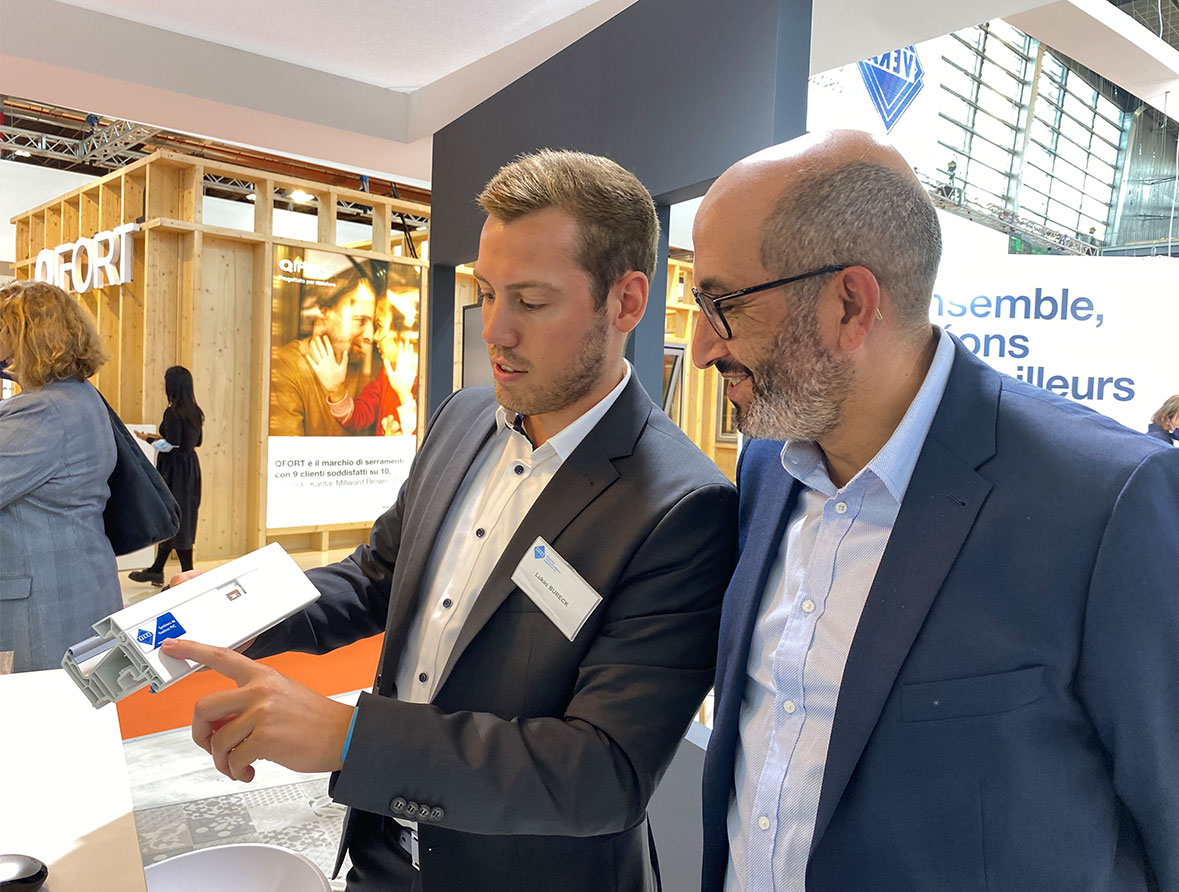 Last week we headed off to France. Our colleague Lukas Bureck from the DBS WinDoFlow team supported our system provider VEKA France at the Equipbaie trade fair in Paris.
Due to the COVID-19 pandemic, trade fairs, conferences and events had to be cancelled or could only take place digitally for the last one and a half years. So we were more than happy, when things finally got back to basics again – and even internationally with the Equipbaie fair in France.
Positive feedback for the chip in the window
During the 4-day event, Lukas Bureck was able to support the 20 employees of VEKA France with his product knowledge. He was not only the ideal contact person for digitization, but he was also able to answer specific questions about our NFC chip in the window profile. As product consultant in the WinDo Flow team, he is very familiar with the chip in the window sash. Visitors of the trade fair were thus able to gain exclusive insights into the solution and the corresponding applications. The Cockpit serves as a central documentation and administration platform for the window manufacturer. The mobile app InstallationPro makes it easy for installers to carry out professional installations on site at the end customer. And the end customer himself also benefits from his own app, the WindowPass. This app offers quick support in terms of service and communication. Initial feedback from visitors about our digital solution was very positive: WinDo Flow is a must for the future.
"The response to our chip in the window was very positive. We were able to hold some interesting discussions and are now looking forward to further exchanges with international manufacturers," concludes Lukas Bureck.
The Equipbaie trade fair took place from 21 to 24 September 2021 and represents the French and international production sector. Visitors were able to discover innovative solutions for all types of construction projects. Of course the digital solutions from DBS were not to be missed.
We thank our partners, colleagues and all visitors for this successful event.
For more information about our system provider please visit the website of VEKA France: https://www.veka.fr/